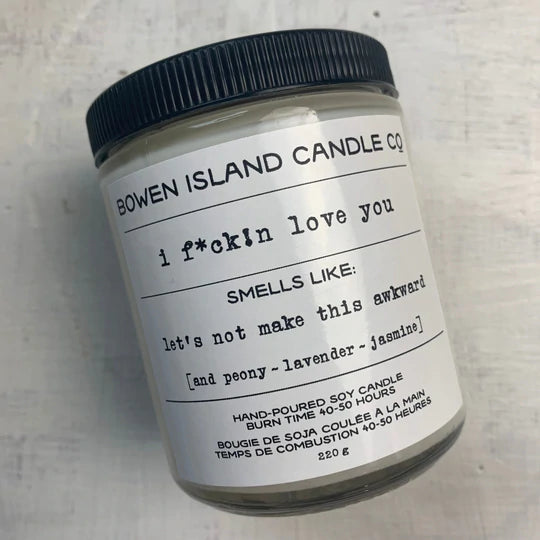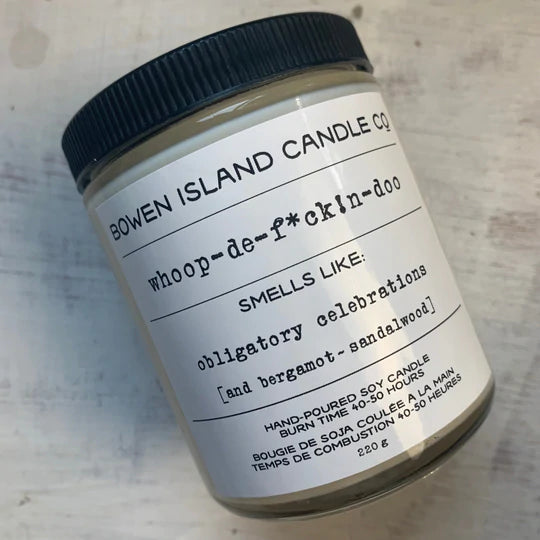 Bowen Island Soap Co CANDLES
Add a little sass to your life with these hand poured soy candles. 

Candle Info.
Weight: 220 grams
Burn time: 40-50 hours
Plant-based, natural, sustainably sourced, GMO free soy wax
Custom blended, skin-safe, phthalate and paraben free fragrance
Sustainable crackling wood wick sourced

from

 

fruit trees sourced from Forest Stewardship Council (FSC)-Certified Mills

Recyclable, reusable jar
Hand-poured on Bowen Island, BC, Canada
Size: Approx 2.75" diameter x 3.75" high with the lid on. Or about the same as an 8oz short cappuccino (just don't try to drink it!)
Candle Best Use & Safety
To ensure an even burn, light the wick across the candle and allow to burn until the wax melts out to the edges of the container. This may take anywhere from 1-3 hours. This will create an even "melt pool" which will optimize each subsequent burn.
Never burn a candle for more than 4 hours at a time and clip your wick using wick trimmers, nail trimmers or similar after each use to 1/4" for optimal burn and to reduce soot.
Keep candle away from drafts, children and pets and ensure it is placed on a heat safe surface to burn.
Never leave a burning candle unattended, eat well and srsly exercise yo' sassy self.
Once your candle has burned to 1/2" from the bottom of the jar, you can melt the remaining soy wax in very hot water and wipe the jar clean and either recycle or reuse.